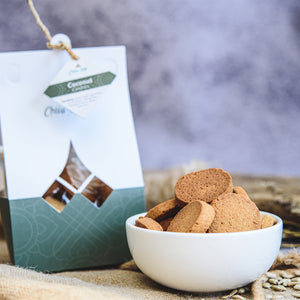 Dried coconut is a tasty source of fibre, good fats, zinc and iron that promote a healthy cardiovascular system.
Coconut meat (as well as the milk and oil) contains unique types of fats that have been shown to have a wide variety of health benefits including supporting cardiovascular health. These fats may raise HDL cholesterol (the good kind) while reducing LDL cholesterol (the bad kind).
These same types of fats are also very filling. Along with coconut meats high fibre content this supports satiety and plays a role in preventing overindulging and maintaining weight loss.
Ingredients
Cake flour, shredded coconut, butter, egg white, sugar, baking soda.
Allergens
Wheat, gluten, dairy, egg.