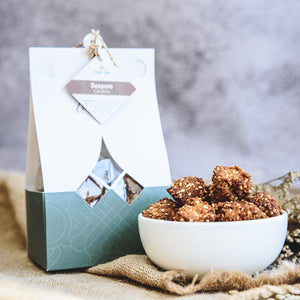 Sesame seeds are naturally high in calcium and magnesium, and give a much needed energy boost after a tiring workout.
Sesame seeds are rich in healthy fats. In fact, about 40 percent of the fat found in sesame seeds are the same types of heart healthy fats that you find in olive oil. Also, sesame seeds contain other heart healthy compounds called lignans and phytosterols that can lower cholesterol levels.
Ingredients
Brown rice cereal, dried coconut, butter, sugar, egg, almond, sesame, baking soda.
Allergens
Dairy, egg, sesame, nuts.